Restealing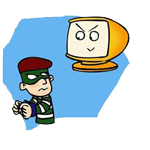 When considering restealing there are two factors which consider the size of the stacks involved. Indeed, in all poker decisions it's crucial to know how many chips are going to be involved.
With this in mind it's important to assess to size of your opponent's raise before making a resteal. A min raise from late position, or when the blinds are small, is more likely to be a steal because the player is trying to commit the smallest amount they can to pinch the pot. A note of caution: some players will min raise with strong hands. Thus, it's important to look at any notes have on this player. Indeed, a min raise from a tight player UTG is much more likely to be a monster hand than a loose player making a min raise from the button.
Further to this is the stage of the tournament. Good players will often decrease their raise sizes as the tournament progresses, so it is important to be aware of who is adjusting their raise sizes because of the blinds and who is adjusting their raises based on the cards they hold.
How much of their stack does your shove represent should also factor into you decision. This is tough to put an exact figure on because it depends a lot on your opponent. Some players will have no concept of stacks and will fold to a 9bb reshove, whereas some players will happily call a 15bb reshove with A2. Generally a stack of 13-15bbs is a good size to put pressure on your opponent. Indeed, at this point you will still have a decent amount of "damage equity" against your opponent unless they have a super large stack.
Restealing in a poker tournament is an effective weapon but one you need to sue sparingly. Use it too often and you won't get any credit, don't use it enough and your stack will dwindle away.
More Poker Articles:
WSOP: The October Nine | Adjustments Essential to Live Poker