Golden Balls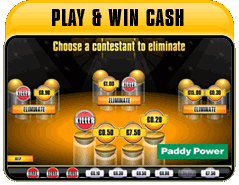 Have you tried Golden Balls yet? Whether you are a newcomer to online bingo or an old pro, you should definitely give this fun game that's taking bingo sites by storm a go.
Based on the popular TV programme of the same name, Golden Balls is a simple but very exciting game. The aim of the game is simply to get rid of the so-called 'killer balls' and keep the 'golden balls' in play. To get through the first two rounds, you must eliminate your opponents. Decide who you think you should get rid of to eliminate as many killer balls as possible, whilst keeping the golden balls in the game.
You can then enter the 'Bin or Win' round and choose your five golden jackpot balls. Once you are down to one remaining virtual opponent, it's time for the head-to-head 'Split or Steal' round where you could double your winnings, or lose it all!
In this final round, you can choose to Split, take whatever the cash prize stands at and leave the game. Or you can pick Steal. If your virtual opponent picks Split, you will win double the cash prize, but if they pick Steal you will win nothing. It's a gamble and a tense game! Do you take the guaranteed prize money or gamble to potentially win double but possibly win nothing at all? Have your wits about you and be ready to make the tough decision!